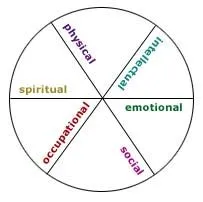 Physical: Physical wellness encourages participation in regular physical activities which improve cardiovascular strength and endurance, flexibility and muscular strength. This dimension involves understanding and appreciating the relationship between sound nutrition and how the body performs. It involves practicing medical self-care for minor illnesses and knowing when professional medical attention is needed.

Intellectual: Intellectual wellness encourages continued learning, problem solving and creativity. This dimension involves improving verbal skills, showing interest in scientific discoveries, keeping abreast of social and political issues and reading books, magazines and newspapers.

Occupational: Occupational wellness is one's attitude about work and career. This dimension involves preparing for and participating in work which provides personal satisfaction and life enrichment. This dimension includes continued development of occupational skills, finding balance between work and leisure activities, participating in paid and volunteer activities and finding challenging work.

Emotional: This dimension involves feeling positive and enthusiastic about ourselves and life. Development in this dimension includes recognition of feelings and the ability to manage feelings, being able to develop autonomy, maintain satisfying relationships and cope with stress.

Social: This dimension encourages taking an active part in improving the community by supporting a healthy living environment and initiating better communication with others. This includes contributing time and/or money to community projects, participating in recycling and other conservation efforts and developing family harmony.

Spiritual: This dimension involves seeking meaning and purpose in human existence. Development in this dimension includes developing a deep appreciation and acceptance for things that cannot be completely understood. It involves the tolerance of values and beliefs of others and participating in activities that are consistent with personal values.